In one click on the right route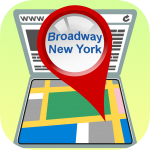 Easy Address is a simple signpost to make your life even more easy.
After downloading the app, it settles in your Safari action menu and will recognise every street address on a website.
So you only have to press a single button to view the location in your favorite route planner like Google Maps or Waze.
No more fiddling with text selection and copy/paste while changing apps.
With the same ease you can share the street address to all your other apps, like Facebook and WhatsApp.
Time line
It all starts here…
App Store Launch
1.0.0 - April 23, 2017
The 5th maps app that can be used.
Support for Here WeGo
1.2.0 - May 25, 2017
The 6th map app and a gorgeous display
Support for Sygic and iPhone X
1.4.0 - Oct 5, 2017
Download Easy Address from the App Store
and get where you are going faster than ever!