Since the launch in October 2011, myTifi is a populair app.
It reached 1 million downloads within 2 years and has currently exceeded the 4 million.
Users love to control their Samsung Smart TV with their mobile device or even from their wrist with Apple Watch.
We release updates frequently to support the latest TVs and other devices.
Features
Organise your favourite channels including their logo.
Rename sources easily, like PlayStation.
myTifi is compatible with all generations of Samsung Smart TVs, including the latest 2014 and 2015 models.
All your settings will be synchronised between your devices.
Why should you remember that CNN is located at channel 28?
Our revolutionary Smart Channel section lets you switch channels by just tapping the network logo: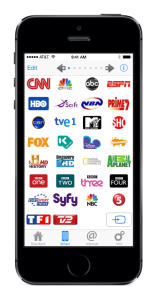 It's even copied by Logitech for their Harmony Ultimate One universal remote.
We take that as a compliment. But we won't charge you $249.
Time line
An exciting moment…
App Store launch 1.0.0 – October 21, 2011
Plus support of Samsung 2012 models.
iPad support 2.0.2 – May 7, 2012
Support of Samsung 2013 models.
Samsung F-Series support 2.15.6 – May 8, 2013
Share your Settings and Smart Channel logos between devices.
iCloud support 2.16.6 – August 13, 2013
Incredible 🙂
1 million downloads August 18, 2013
We keep it simple: myTifi
New logo and name 3.0.0 – November 21, 2013
Connect faster than ever before.
Improved TV detection 3.6.0 – April 26, 2014
The last million took only 9 months.
2.5 million downloads December 6, 2014
Support of Samsung 2014 and 2015 models.
Samsung H- and J-Series support 4.0.0 – July 31, 2015
Control your TV from your wrist.
Apple Watch 5.0.0 – December 10, 2015
Information
Download myTifi for free from the App Store, or read the manual.